Creative winter holidays with AZ Toys!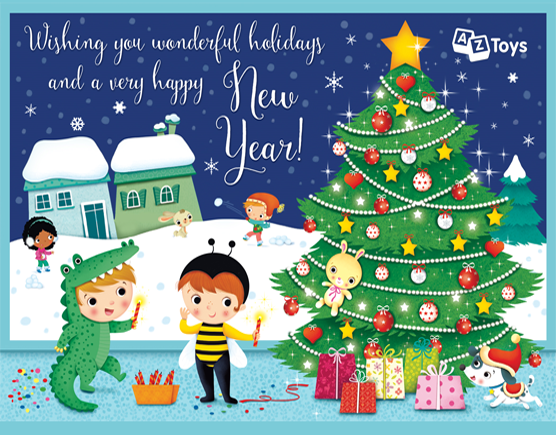 What can be better than spending winter holidays with your family sipping hot tea, making a snowman, ice-skating or playing interesting games with adorable toys? It is the best time to have fun and discover something new together!
The AZ Toys team carefully chose only the most special toys for your little ones to make the winter holidays even more fascinating.
1. Merry Piano Christmas Tunes
This unique piano will become a perfect present for any child! Kids will listen to their favourite Christmas tunes and sing along!
2. Magic Microphone Christmas Songs
This toy can make any cold winter day amazing and full of joy! Little ones can sing 12 famous Christmas songs and feel in the limelight!
3. Stick and Play Interactive Panda
Easy-to-use phone-shaped Stick and Play Pad will help to learn everything about the weather! Panda will share useful information and advise what to wear depending on the season. Play, learn and enjoy amusing tunes!
4. Kids' Pad Fairy Tales
This pad will become an excellent gift for your little one's winter holidays! Popular fairy tales, fables, famous songs, lullabies and funny sounds will be a perfect entertainment for leisure time!
5. Magic Wand
Every little girl dreams of being a real fairy! The delightful Magic Wand with its charming melodies and magic sounds will help all dreams come true and become a favourite accessory!
6. Fairy Nightlight Sweet Dreams
This brand new nightlight is designed to delight with beautiful soft lullabies and fascinating fairy tales! Turn on any song or fairy tale and the candle lights will shine and glimmer! Blow on the lights and the nightlight will switch off! Good night and sweet dreams!

Enjoy the frosty winter season together with our unique entertaining toys!
Merry Christmas and Happy New Year!