Musical Pads for Fun and Learning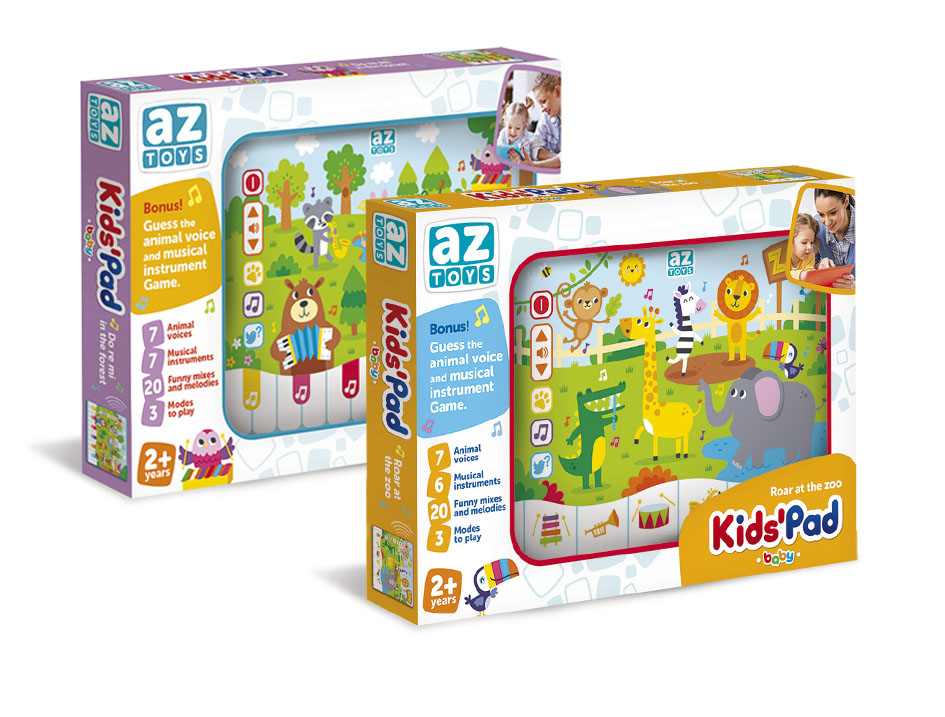 The early years of a little one are filled with both an aptitude for learning and an unstoppable desire for fun and entertainment. In addition, most kids love anything involving bright colours and music. Putting all these facts together, the AZ Toys team has come up with the truly delightful hot novelties of the series Kids' Pad Baby tablets, specially designed for curious and tireless 2+ year old toddlers.
Here come our two captivating and vibrant pads that will definitely win the heart of any kid –
Roar at the zoo
that features incredibly cute zoo animals, and
Do re mi in the forest
with amusing forest animals, all inviting kiddos to join in the fun and become their besties. Both pads have a distinctive perk – all the games are musical! Lively sounds and groovy melodies will keep your child interested and engaged for hours. And with the possibility of creating their own mixes, budding Mozarts can make any bold musical experiments they can think of – the only limit is their imagination.
In addition to endless hours of fun and play, our original novelty tablets cater for the child's thirst for knowledge, offering a creative way to introduce the first educational topics to young explorers – a little one will be amazed listening and discovering what voices forest and zoo animals have and what sounds musical instruments make.
AZ Toys is pleased and proud to deliver this unique novelty toy for the kids' meaningful pastime ensuring positive and enriching early experiences, as well as helping to develop motor skills and promoting open-ended musical creativity. We hope that all kids throughout the world get the opportunity to enjoy and take advantage of it!